Floor Plan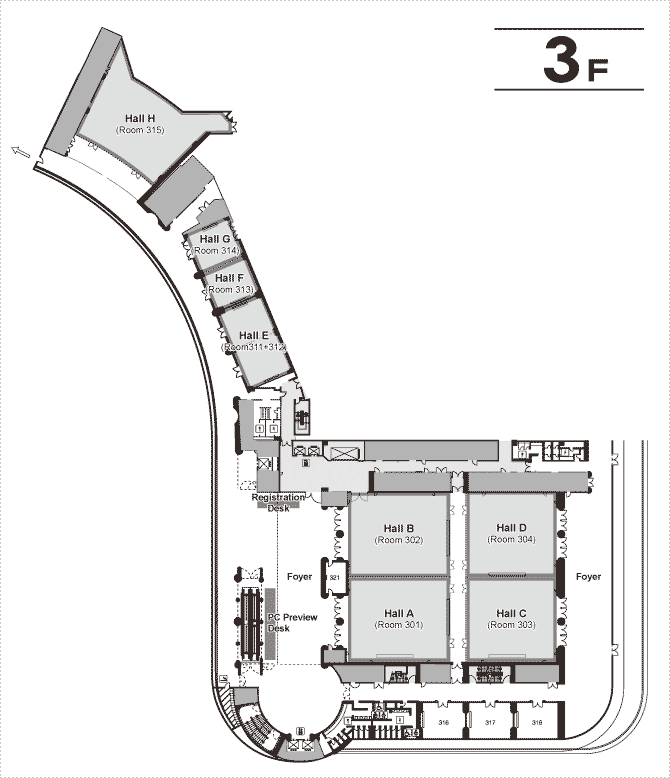 Social Events
Get Together
June 17, 7:00pm-9:00pm at Hall H(room 315), 3rd floor of the Pacifico Yokohayama.
Gala Dinner:
June 18, 7:30pm-9:30pm at Admiral Perry's Room, Hotel New Grand Courtesy
∗Courtesy shuttle will be available from the conference venue.
General Information
Registration Desk
Location: 3rd floor Foyer of the conference center.
Open Hours:
June 17 , Monday

9:30am-6:30pm

June 18, Tuesday

8:00am-5:00pm

June19, Wednesday

8:00am-2:00pm
PC Preview Desk
Speakers are required to upload their presentation data at the PC Preview Desk at least 1 hour before the start of the presentation.
Location: 3rd floor Foyer at Pacifico Yokohama
Open Hours:
June 17, Monday

9:30am-6:00pm

June 18, Tuesday

8:00am-5:00pm

June 19,Wednesday

8:00am-2:00pm
Name Badge
Congress participants are requested to wear their name badges at all times for identification purposes and admission to the scientific and social programs. In case you have lost your badge, you may ask for a replacement at the General Information Desk.
Congress Kit
Please pick up at the Registration Desk.
Official Language
The official language of the congress is English.
Simultaneous interpretation (English – Japanese, Japanese- English) will be provided in the Hall A (room 302) on June 19.
Internet Connection
Free Wi-Fi is available for participants at the conference center.
SSID : FREE-PACIFICO
Refreshments
A light meal for lunch and snacks for coffee break will be available on a first-come, first-served bases.
Disclaimer
The organizing committee of ISBRA2019 will accept no liability for the safety of any participant, or for personal injury or loss, or damage to private property suffered by any registered participant during the congress.